IFO Releases
October 29, 2020 | Revenue Estimates
The Independent Fiscal Office (IFO) released its October Revenue and Economic Update. Click the hyperlink above to view the report and presentation.
---
October 23, 2020 | Revenue Estimates
The IFO will present a revenue and economic update for FY 2020-21 on October 29 at 10 am. The update will be based on revenues received for the first four months of the fiscal year and the latest state economic data. See the announcement for a link to register for the presentation.
Tags: economic, presentation, revenue
---
October 22, 2020 | Revenue & Economic Update
The October edition of our Monthly Economic Update includes links to recent articles and reports that provide insight into state or national economic, demographic and fiscal trends.
---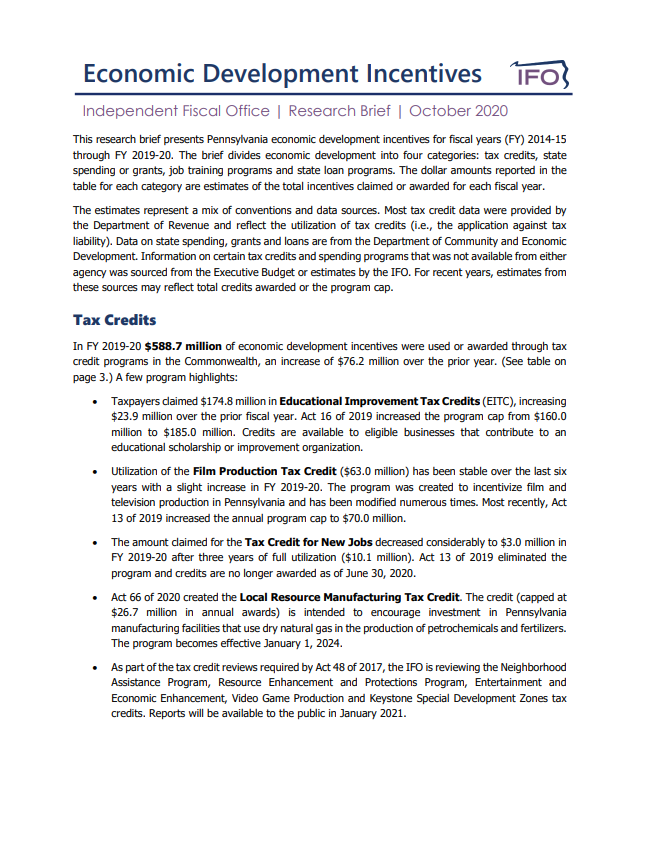 October 15, 2020 | News Stand & Other
This research brief presents data on Pennsylvania economic development incentives for fiscal years (FY) 2014-15 through FY 2019-20. The tables provide annual detail on tax credit utilization or awards, state spending or grants, job training programs and state loan programs. The brief also highlights recent changes to incentive programs spending or utilization.
Tags: brief, credits, development, economic, incentives, research, tax
---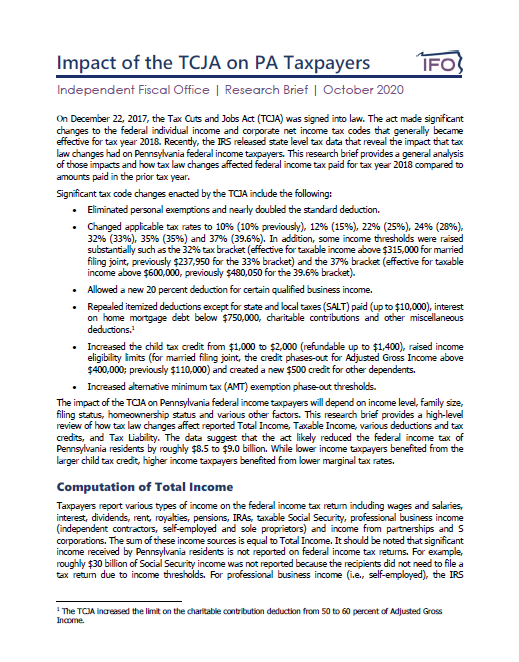 October 13, 2020 | News Stand & Other
This research brief uses newly released IRS tax data to examine how the Tax Cuts and Jobs Act of 2017 impacted Pennsylvania federal income taxpayers. The analysis finds that tax law changes likely reduced federal income taxes by roughly $8.5 to $9.0 billion.
This research brief was originally posted on October 2 but was updated and reposted on October 13 so that refundable tax credits and certain miscellaneous taxes (AMT and net investment tax) are reflected in average tax rate and estimated tax cut computations. Previously, those amounts were itemized separately.
---
October 01, 2020 | Revenue & Economic Update
The Commonwealth collected $3.26 billion in General Fund revenues for September, an increase of $76.7 million (2.4%) compared to September 2019.
---