Includes statutorily required revenue estimates released in May or June, November and January each year.
Includes special reports requested by the General Assembly and IFO Research Briefs.
Monthly General Fund revenue collections by tax source. Monthly and quarterly economic indicators for the U.S. and Pennsylvania.
Pennsylvania Natural Gas Royalties
March 22, 2018 | Other Documents and Requests
The IFO responds to a request regarding the natural gas royalty payments in Pennsylvania.
---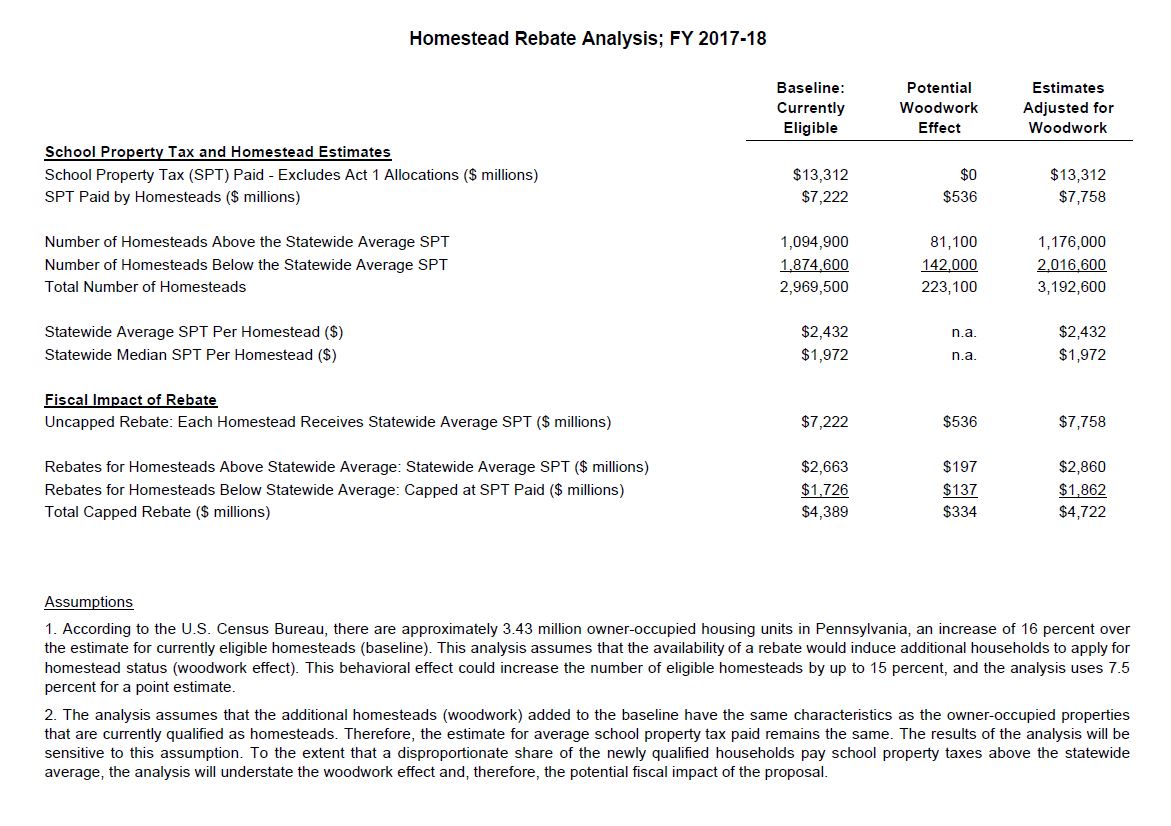 Fiscal Impact of School Property Tax Rebates
March 13, 2018 | Research Briefs and Special Reports
In response to a legislative request, the IFO estimated the fiscal impact of a school property tax rebate for all homesteads. The rebate would be equal to the statewide average school property tax paid by homesteads. The response includes both baseline estimates for currently eligible homesteads and estimates for a behavioral effect based on the filing of additional homestead applications in response to the availability of rebates.
---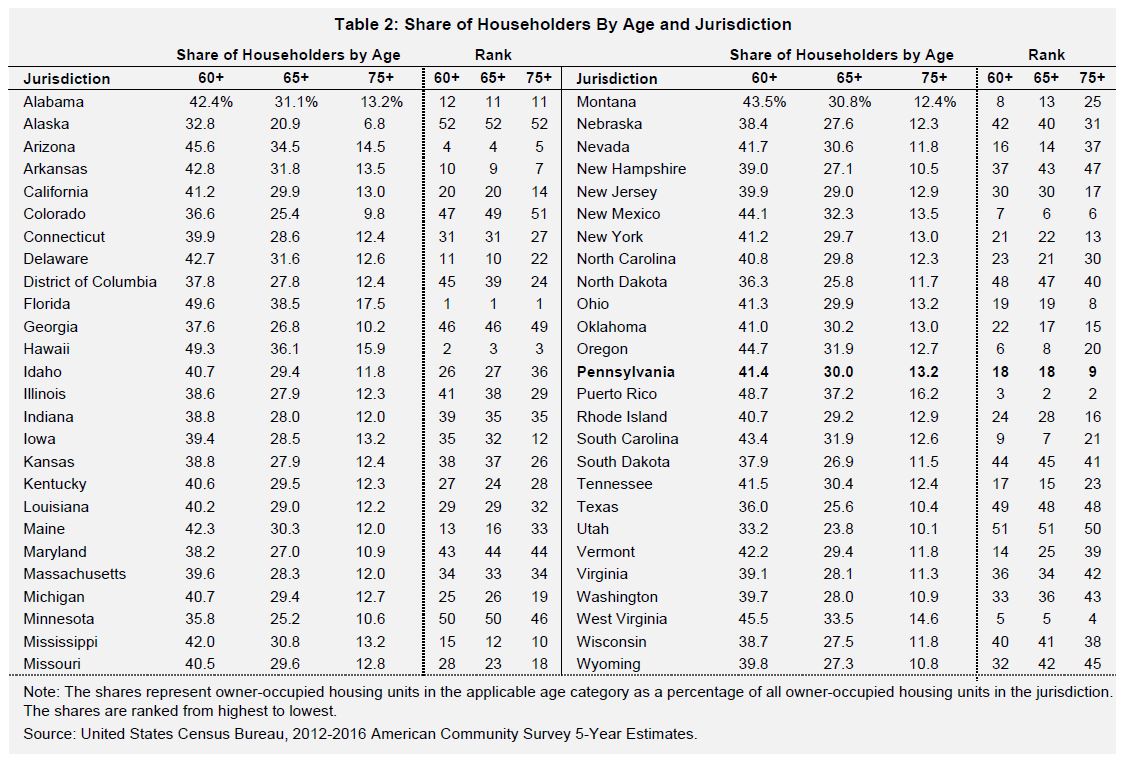 Owner-Occupied Housing Units by Age of Householder - a Multi-Jurisdiction Comparison
March 12, 2018 | Other Documents and Requests
The Independent Fiscal Office responded to a question raised at the office's recent budget hearing before the Senate Appropriations Committee. A committee member asked how Pennsylvania compares to other states regarding the share of owner-occupied households in which the homeowner is age 60 or over. The response includes multi-jurisdiction comparisons for householders who are age 60 or over, age 65 or over and age 75 or over.
---
IFO Update on Selected Fiscal Topics and Pennsylvania Demographics
March 09, 2018 | Presentations
Deputy Director Mark Ryan made a presentation to the annual conference of the Pennsylvania Association of School Business Officials and provided updates on topics addressed in recent IFO analyses. The topics included 1) school property tax forecasts and analysis, 2) Pennsylvania demographic trends, 3) the most recent IFO revenue estimates for FY 2017-18 and FY 2018-19 and 4) the impact of pension changes resulting from Act 5 of 2017.
---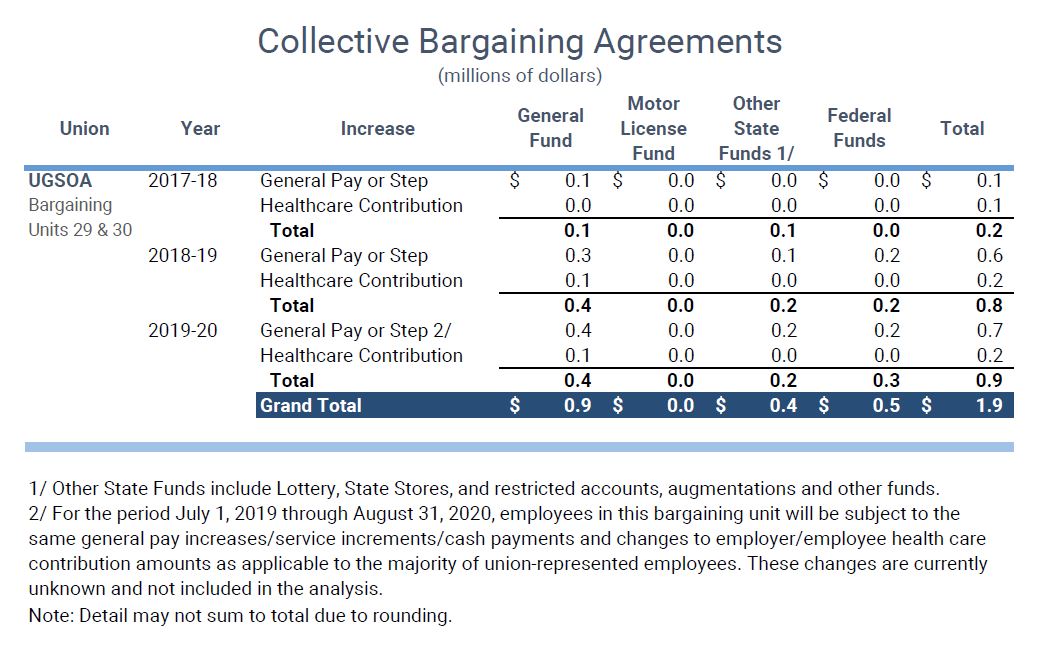 UGSOA Wage Contract Analysis
March 08, 2018 | Other Documents and Requests
Section 604-B(a)(8) of Act 100 of 2016 (Act of July 20, 2016, P.L. 849, No. 100) requires the Independent Fiscal Office (IFO) to:
Provide a cost analysis for the current fiscal year and remaining subsequent fiscal years of the impact of each proposed collective bargaining agreement under the jurisdiction of the Governor prior to execution, including the costs to cover public employee wages, benefits, pensions and working conditions that have been reduced in writing under section 701 of the act of July 23, 1970 (P.L. 563, No. 195), known as the Public Employe Relations Act.