Includes statutorily required revenue estimates released in May or June, November and January each year.
Includes special reports requested by the General Assembly and IFO Research Briefs.
Monthly General Fund revenue collections by tax source. Monthly and quarterly economic indicators for the U.S. and Pennsylvania.
IFO Public Briefing
April 24, 2018 | Presentations
The Independent Fiscal Office will release updated revenue forecasts for fiscal years 2017-18 and 2018-19. The session is open to the public and will take place at 2:00 on May 1st in the Rachel Carson State Office Building. The report will be posted to the office website at the start of the briefing.
---
IFO News Stand - April Edition
April 20, 2018 | Research Briefs and Special Reports
The first edition of our monthly newsletter – The IFO News Stand. The new release provides links to recent articles and reports that provide insight into state or national economic, demographic, budget and tax revenue trends.
---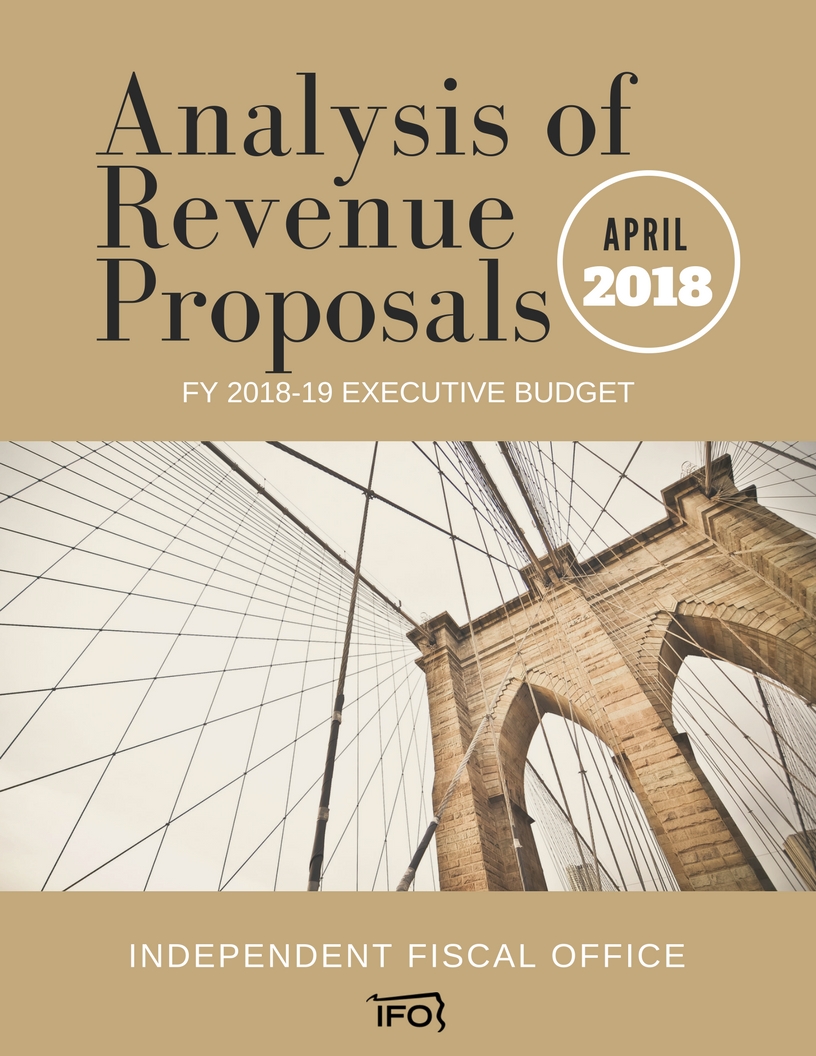 April 18, 2018 | Revenue Estimates
This report provides estimates for the revenue proposals contained in the 2018-19 Executive Budget released February 2018. The Independent Fiscal Office (IFO) publishes this report to fulfill its statutory duties as provided under 71 Pa.C.S. § 4104. The act requires that the IFO "provide an analysis, including economic impact, of all tax and revenue proposals submitted by the Governor or the Office of the Budget."
---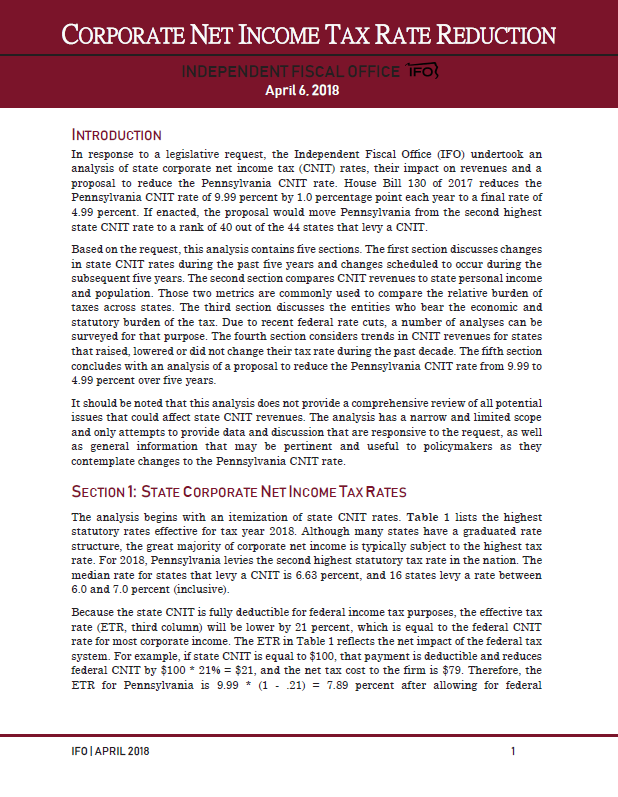 Corporate Net Income Tax Rate Reduction
April 11, 2018 | Other Documents and Requests
The IFO responds to a legislative request regarding the state corporate net income tax (CNIT). The report contains an analysis of state CNIT rates, their impact on revenues and a proposal to reduce the Pennsylvania CNIT rate.
---
Neighborhood Assistance Program Tax Credit
April 02, 2018 | Other Documents and Requests
The IFO responds to a request regarding the Neighborhood Assistance Program Tax Credit.