Includes statutorily required revenue estimates released in May or June, November and January each year.
Includes special reports requested by the General Assembly and IFO Research Briefs.
Monthly General Fund revenue collections by tax source. Monthly and quarterly economic indicators for the U.S. and Pennsylvania.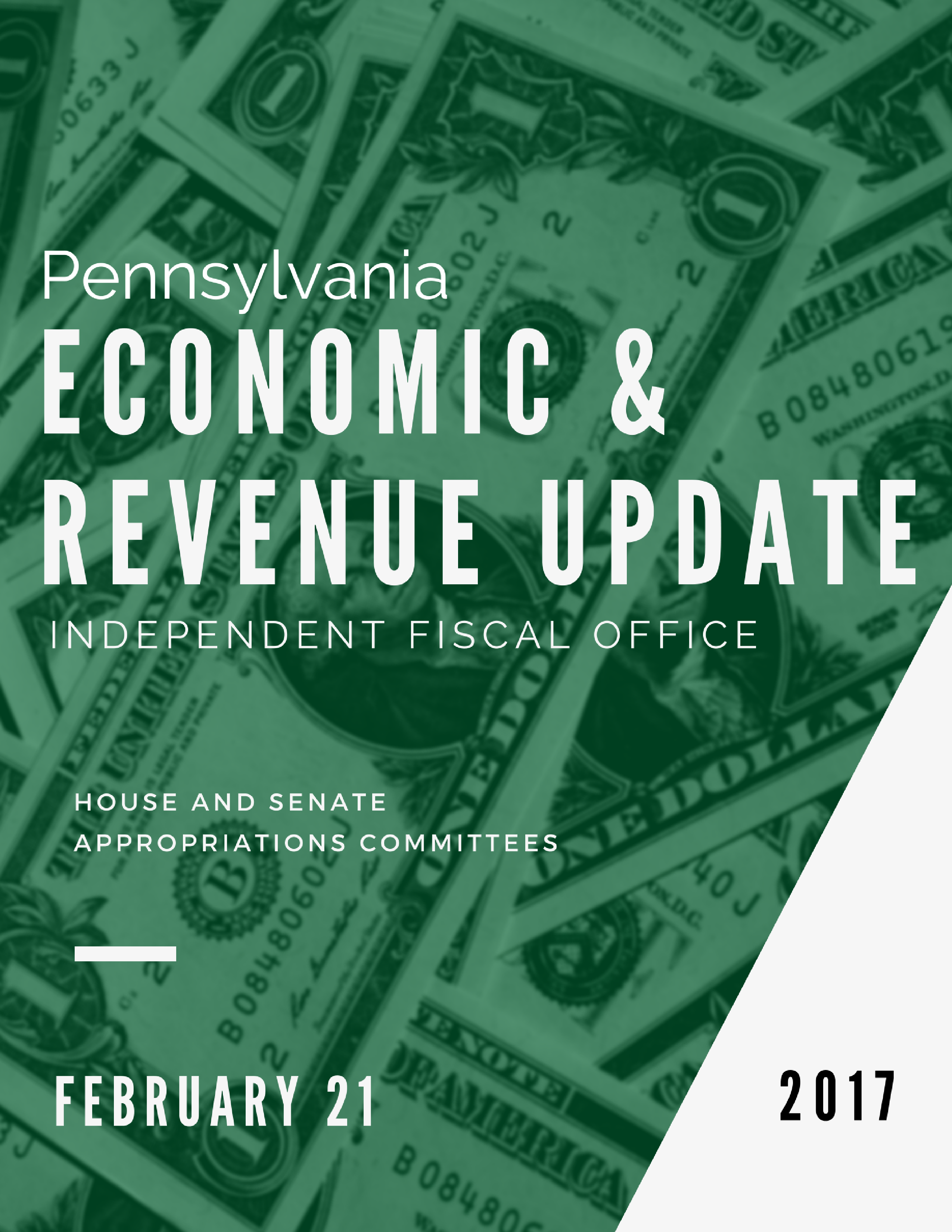 Budget Hearing Packet for Appropriations Committees
February 16, 2017 | Other Documents and Requests
The IFO has compiled information for the House and Senate Appropriations Committees in advance of its scheduled testimony on Tuesday, February 21.
The hearing packet contains a brief background on the Independent Fiscal Office and its responsibilities, along with a list of the reports and analyses published since January 2016. It also provides data regarding the economic and revenue outlook, demographics, pensions, and natural gas.
---
February 13, 2017 | Research Briefs and Special Reports
This research brief contains current and historical trends for casino gaming, pari-mutuel gaming and the lottery. The brief also presents casino gaming revenues, tax rates and effective tax rates for adjacent states, which likely influence trends for Pennsylvania. The final section displays how revenues from the three types of gaming were used in the state budget for the most recent year of actual data, FY 2015-16.
---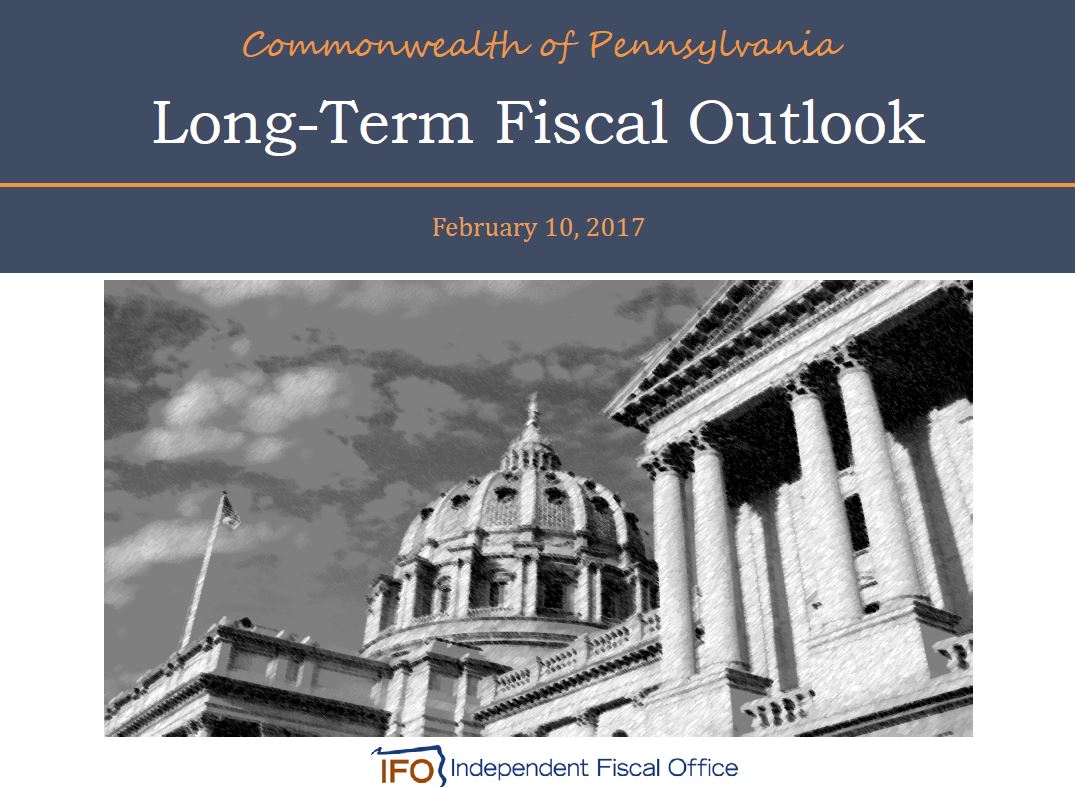 Long-Term Fiscal Outlook
February 10, 2017 | Presentations
Deputy Director Mark Ryan made a presentation at a session of the Pennsylvania Education Policy Fellowship Program regarding the Commonwealth's long-term fiscal outlook. The presentation summarized the office's five-year economic and budget outlook (November 2016) as well as more recent updates to the office's revenue estimates for FY 2016-17 and FY 2017-18 (January 2017). The presentation also addressed the office's most recent estimate for school property tax collections.
---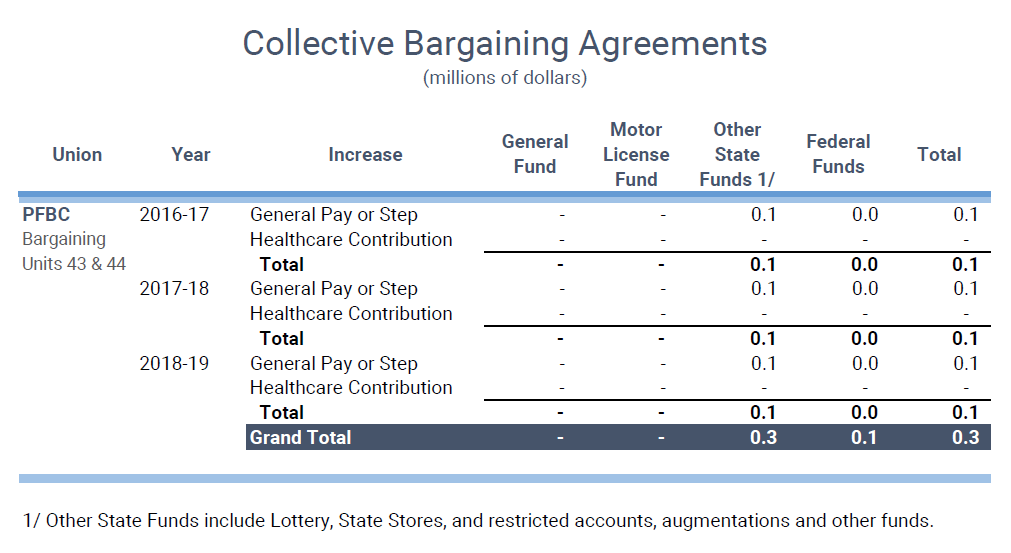 PFBC Wage Contract Analysis
February 02, 2017 | Other Documents and Requests
Section 604-B(a)(8) of Act 100 of 2016 (Act of July 20, 2016, P.L. 849, No. 100) requires the Independent Fiscal Office (IFO) to:
Provide a cost analysis for the current fiscal year and remaining subsequent fiscal years of the impact of each proposed collective bargaining agreement under the jurisdiction of the Governor prior to execution, including the costs to cover public employee wages, benefits, pensions and working conditions that have been reduced in writing under section 701 of the act of July 23, 1970 (P.L. 563, No. 195), known as the Public Employe Relations Act.
---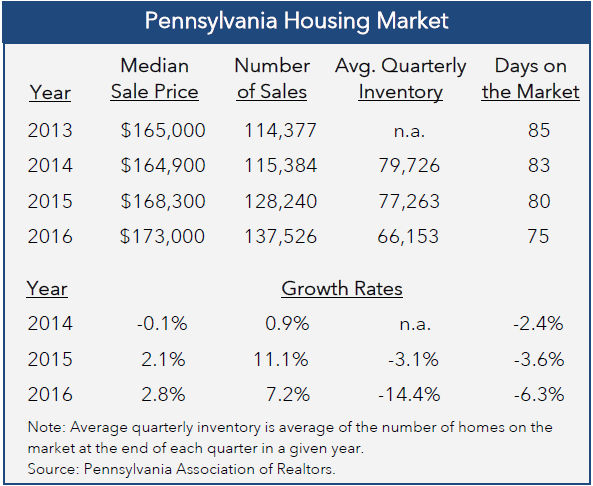 February 01, 2017 | Monthly Trends Reports
The Commonwealth collected $2.64 billion in General Fund revenues for January, an increase of $143.6 million (5.7%) compared to January 2016. Fiscal year-to-date revenues were $16.10 billion, an increase of $197.8 million (1.2%) from the prior year.