January 2017
February 01, 2017 | Revenue & Economic Update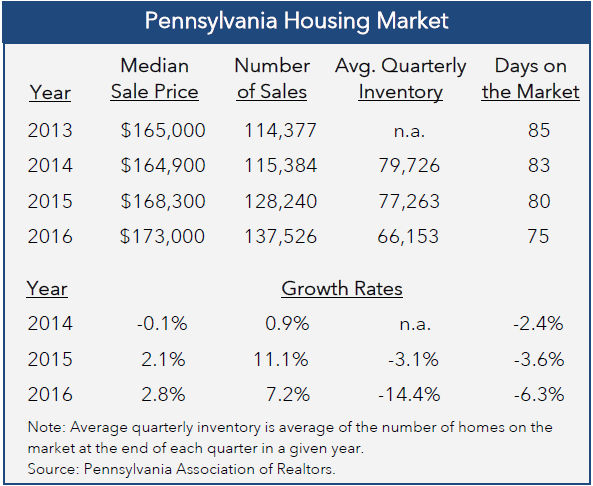 Pennsylvania home sales continued a pattern of strong growth in 2016. The Pennsylvania Association of Realtors (PAR) releases quarterly reports on home sales and prices in the Commonwealth. The data include single-family units, townhomes and condominiums through the fourth quarter of 2016. Data from PAR indicate that there were 9,000 more homes sold in 2016 than in 2015, a growth rate of 7.2%.
Compared to prior years, houses are spending fewer days on the market. The average number of days on the market dropped from 85 days in 2013 to 75 days in 2016. Moreover, fewer homes are listed for sale. Housing inventory is measured as the number of homes listed for sale at the end of each quarter. The average quarterly housing inventory in Pennsylvania has decreased from nearly 80,000 in 2014 to slightly more than 66,000 in 2016.
Due to higher demand and lower supply of homes, the data suggest that housing prices are increasing at a faster rate. The median home sales price grew to $173,000 (2.8%) and data from the Federal Housing Finance Agency confirm these trends in Pennsylvania (3.7% sales price growth). Other data show the months' supply of inventory has declined to 5.8 months (-6.3%) in 2016. The months' supply is the number of months it would take for current inventory to be depleted if no new homes were added to the market.
National data reflect similar trends as Pennsylvania. The National Association of Realtors estimates that the U.S. median sales price increased by 7.7% in 2016.1 The national inventory of homes declined by 6.9% in 2016, reaching its lowest level since 1999.2 Annual home sales closed with 5.45 million sales (3.8%), the highest level since 2006. These data point to a strong housing market on the national level.
As a result of the low inventory of homes, prices may continue to rise. Compared to the nation, Pennsylvania's median sales price typically grows more slowly, resulting in a more affordable housing market. However, the recent Federal Reserve decision to increase interest rates may hinder affordability for some buyers and restrain prices, as prices typically grow more slowly with higher interest rates. In December, the average rate of a conventional 30-year mortgage increased from 3.8% to 4.2%. The Federal Reserve is expected to continue to raise rates in 2017. Due to the combination of the low inventory of homes and rising interest rates, it is unclear what the net impact on housing prices and sales will be going forward.