IFO Releases
April 23, 2020 | Revenue Estimates
This report provides estimates for the revenue proposals contained in the 2020-21 Executive Budget released February 2020. The Independent Fiscal Office (IFO) publishes this report to fulfill its statutory duties as provided under 71 Pa.C.S. § 4104. The act requires that the IFO "provide an analysis, including economic impact, of all tax and revenue proposals submitted by the Governor or the Office of the Budget."
---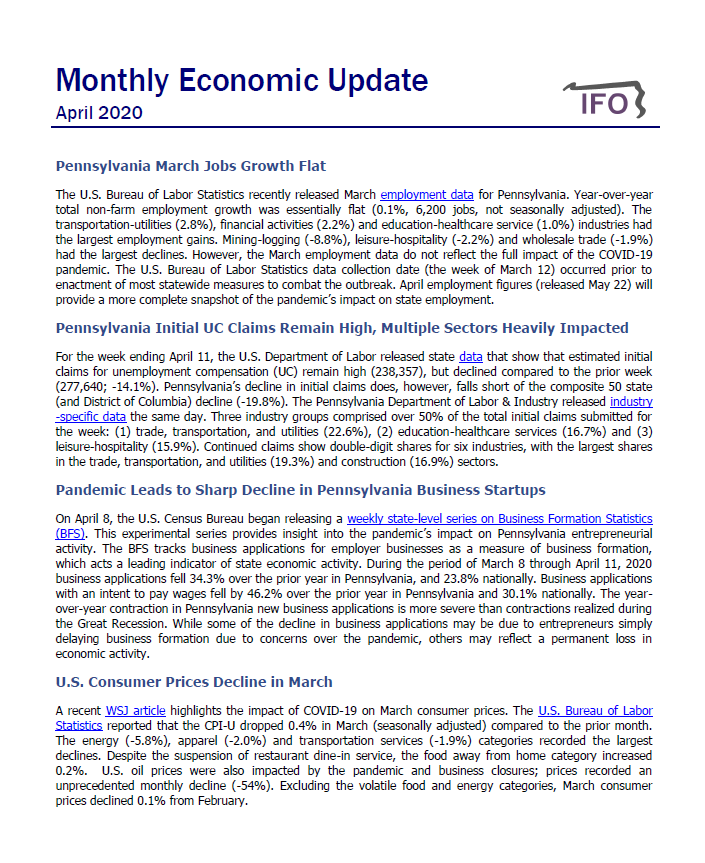 April 22, 2020 | Revenue & Economic Update
The April edition of our Monthly Economic Update includes links to recent articles and reports that provide insight into state or national economic, demographic and fiscal trends.
---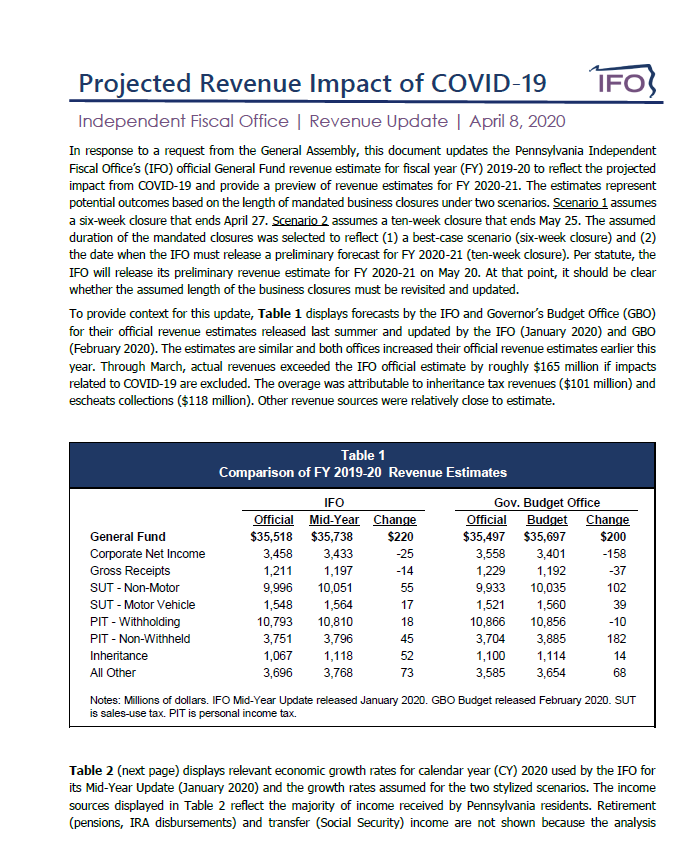 April 08, 2020 | Revenue Estimates
The IFO released an updated revenue projection for FY 2019-20 and a preliminary projection for FY 2020-21 using two scenarios for business closures due to the COVID-19 virus. The release also discusses the impact on economic growth rates and federal stimulus monies that are projected to flow into the state economy.
---
April 07, 2020 | Property Tax
This research brief uses data from the U.S. Census Bureau's American Community Survey to provide Pennsylvania property tax data for 2018 by county, household income and homeowner age.
---
April 01, 2020 | Revenue & Economic Update
The Commonwealth collected $4.4 billion in General Fund revenues for March, a decline of $118.1 million compared to March 2019. The IFO estimates that the outbreak of the COVID-19 virus reduced monthly collections by $200 million.
---