IFO Releases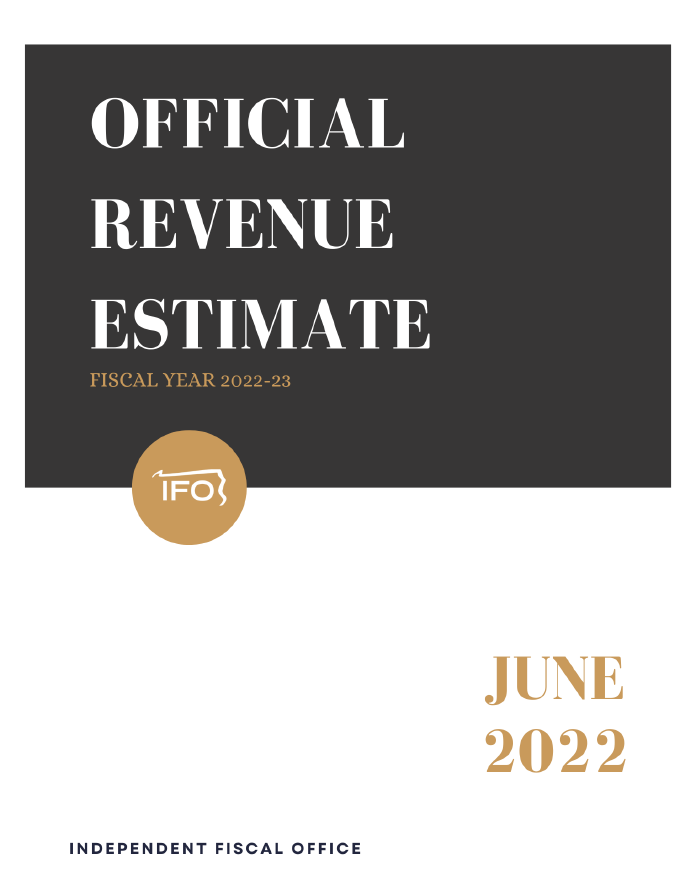 June 23, 2022 | Revenue Estimates
The Independent Fiscal Office (IFO) released its official revenue estimate for FY 2022-23. Updated estimates for FY 2021-22 are included.
---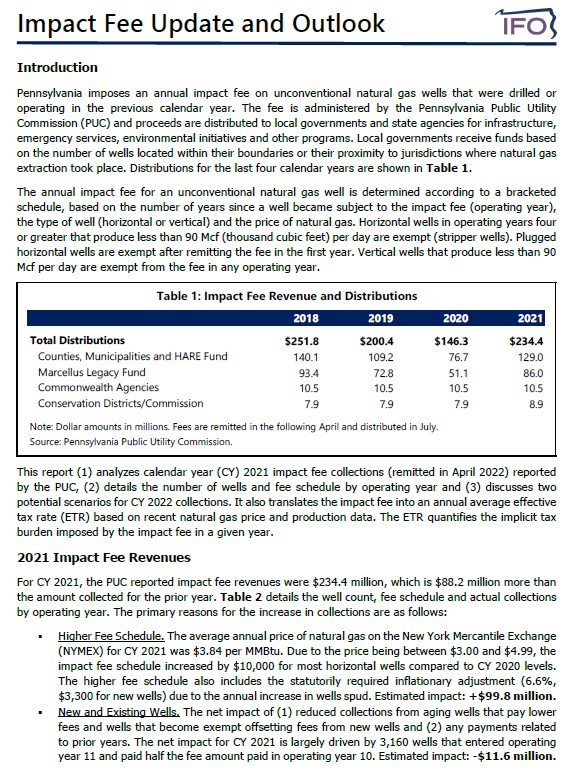 June 21, 2022 | Energy
This update examines 2021 impact fee collections and provides an outlook for 2022. The Commonwealth collected $234.4 million in impact fees for 2021, an $88.2 million increase from 2020.
---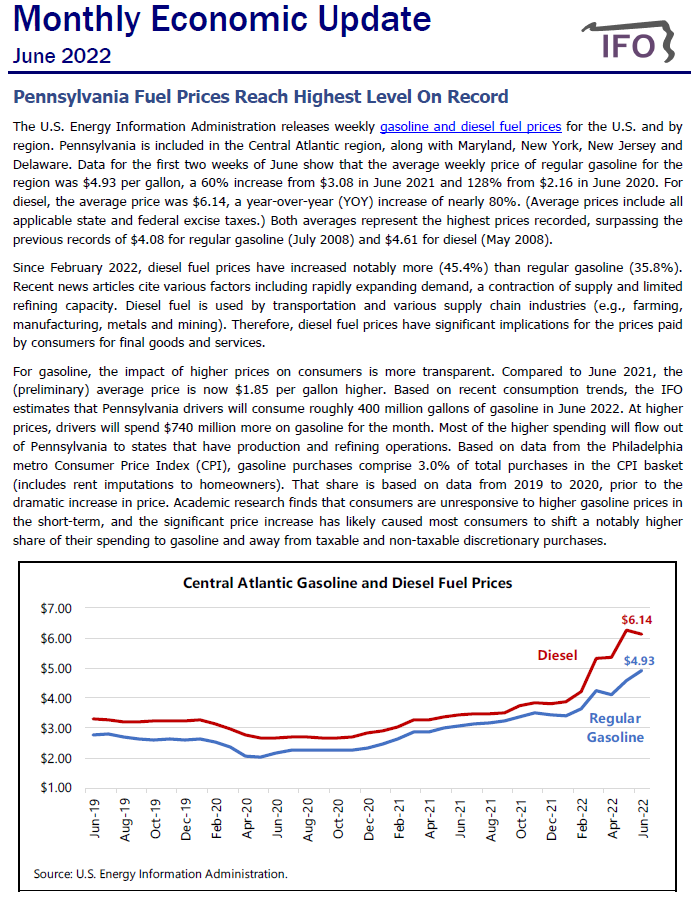 June 16, 2022 | Revenue & Economic Update
The June edition of our Monthly Economic Update includes links to recent articles and reports that provide insight into state or national economic, demographic and fiscal trends.
---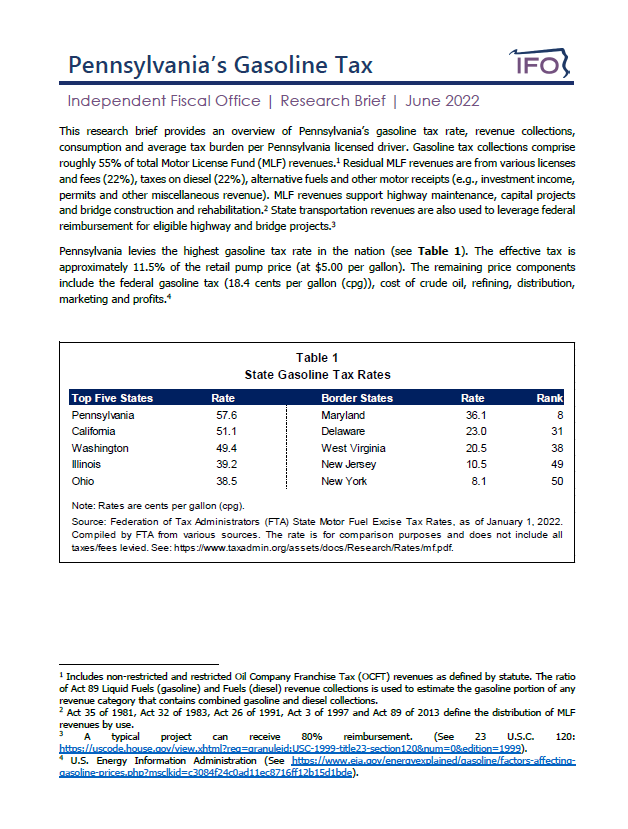 June 13, 2022 | Economics and Other
The IFO published a research brief that examines the Pennsylvania gasoline tax, which comprises 55% of Motor License Fund revenues. Although Pennsylvania levies the highest gasoline tax rate in the nation, the analysis finds that collections have not kept pace with the rising cost of road construction. This outcome is largely the result of the tax structure, which is tied to the average wholesale price of fuel and has not increased since 2018. For FY 2021-22, the IFO estimates that the annual gasoline tax burden per licensed Pennsylvania driver is $285.
---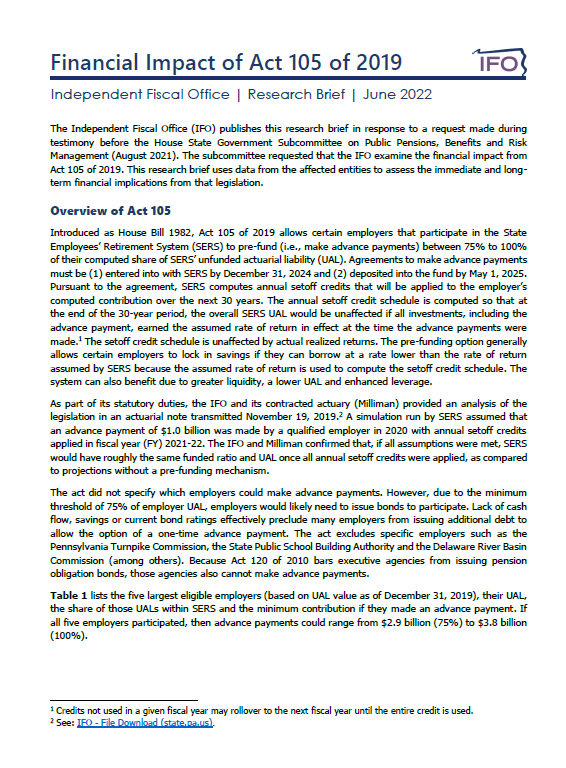 June 09, 2022 | Pension Analysis
The IFO published a new research brief that examines the impact of Act 105 of 2019, which allows certain SERS employers the option to pre-fund their unfunded liabilities. The analysis finds that the two participating employers effectively locked in roughly $1 billion of nominal savings over thirty years while all SERS employers are projected to save an additional $300 million (nominal). The savings are due to very strong returns realized on advance payments made in 2020 and 2021.
---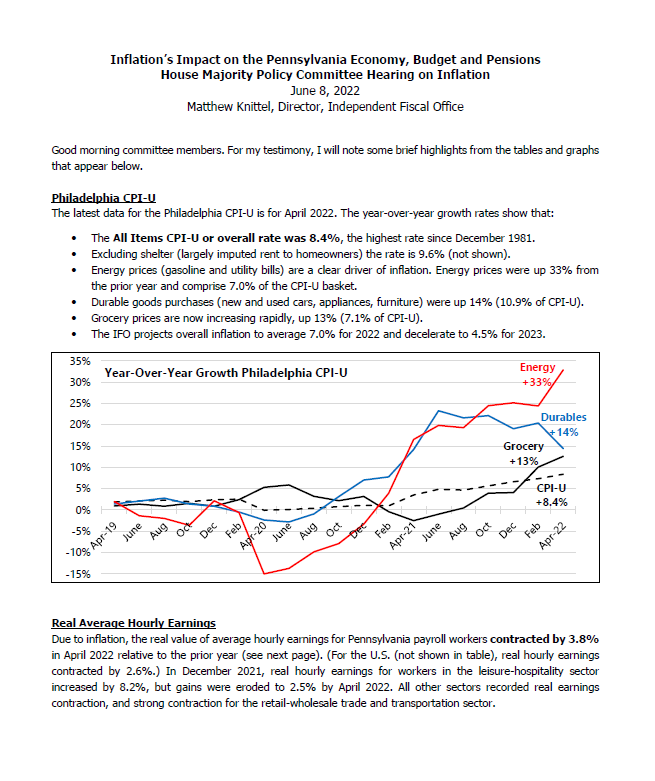 June 07, 2022 | Economics and Other
On June 8, Director Matthew Knittel will make a brief presentation to the House Majority Policy Committee on the impact of inflation on the state economy and budget.
Tags: economy, inflation, pennsylvania
---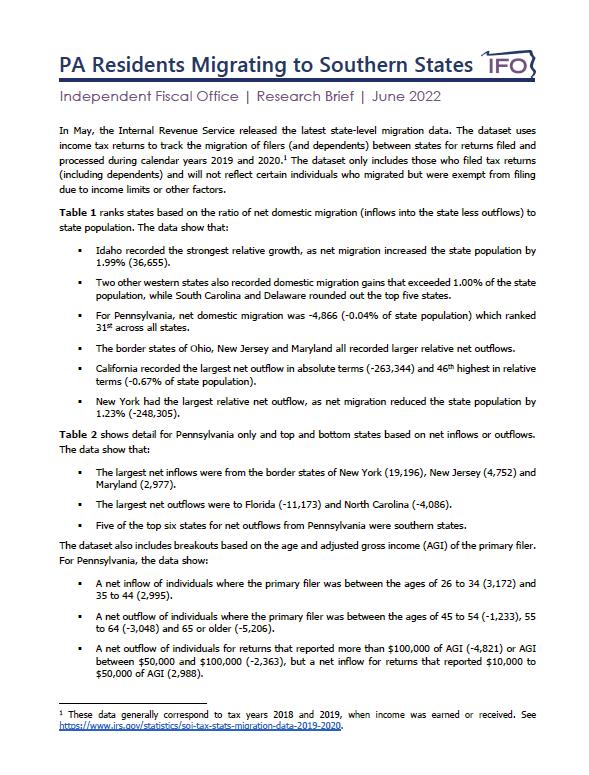 June 02, 2022 | Economics and Other
The IFO posted a research brief that uses recent IRS tax data to track migration between states for 2019 and 2020. The IRS data show large net inflows from most border states and net outflows to southern states, most notably Florida. Net outflows were much heavier for residents age 55 and older.
---
June 01, 2022 | Revenue & Economic Update
The Commonwealth collected $3.23 billion in General Fund revenues for May, a decrease of $716.2 million (-18.1%) compared to May 2021.
---